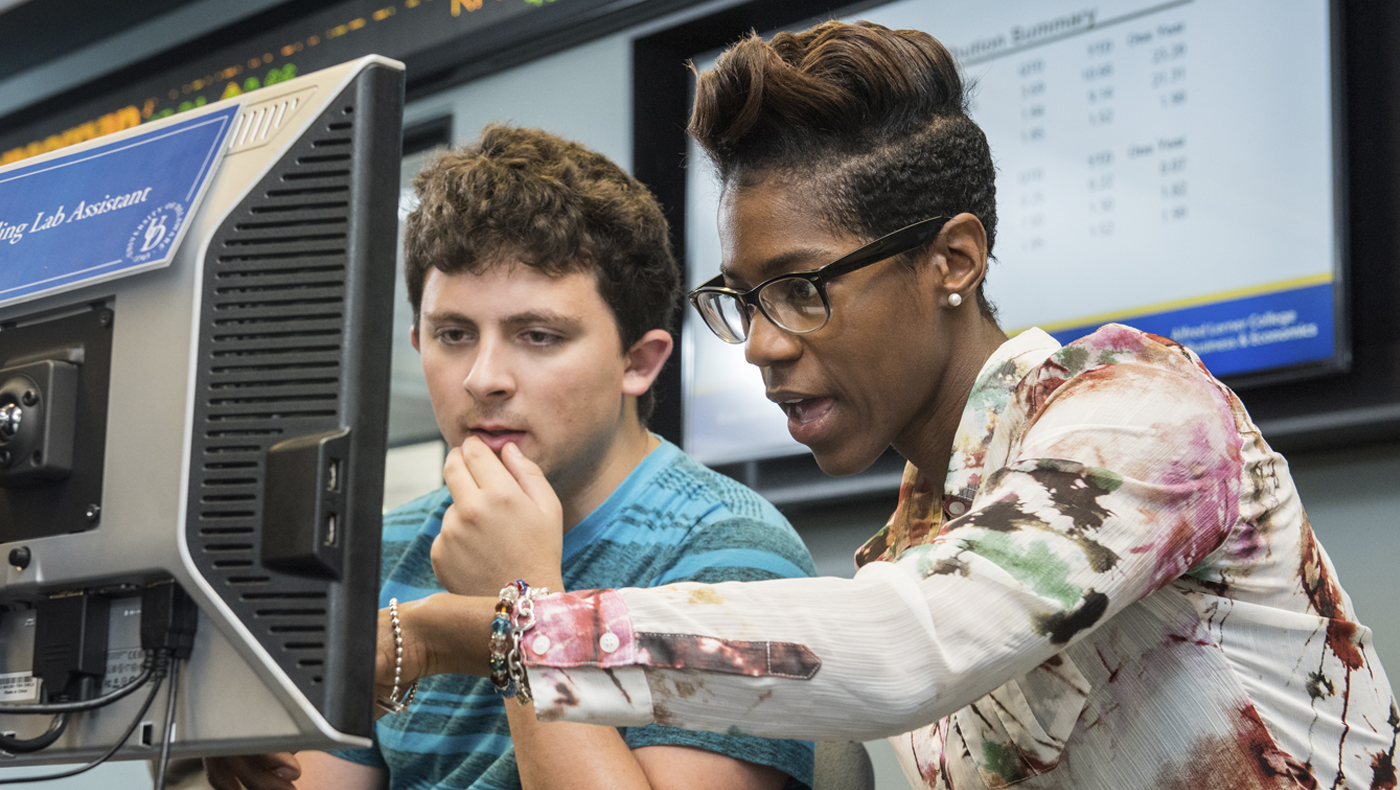 Finance students focus on learning how to make the best decisions about raising and using resources under risk. Finance addresses many questions regarding value:
How much is a product worth?
Is a stock worth investing in?
Will expanding a business produce a sufficient return on investment?
Deciding what to do with the opportunities and resources you have or can obtain today, balanced with your business needs for tomorrow — that's what the field of finance is all about.
---
Academic Programs
Undergraduate
Graduate
---
Research Databases
The Finance Department helps maintain an extensive set of research databases for faculty and students. The availability of our databases is made possible through the generous support of the Lerner College, the Unidel Foundation, Donald J. Puglisi and gifts from many other alumni, faculty and friends.
For examples of research produced with these databases, please visit our faculty research page.
News
Lerner Graduate Student Stories: Larynette Ndah

–

Larynette Ndah is an MBA in corporate finance and entrepreneurial studies candidate at UD's Lerner College. Ndah shared how this program has impacted her and what she plans to do next.

Lerner Remote Resources

–

The Lerner College is committed to supporting our community during this uncertain time. Please refer to this page for important resources and contact information.

5 Tips for How to Job Search in Uncertain Times

–

In order to support our students during the coronavirus outbreak, Jill Gugino Pante and Sarah Baker Andrus from the Lerner College Career Services Center shared expert advice on how to pursue a job search during this time.

Personal Finance Competition at UD

–

Local Delaware high school students presented their personal finance recommendations to the imaginary "Hernandez family" on Feb. 7 at this year's Delaware Personal Finance Case Study Competition.

Artificial Intelligence in the Changing Business Landscape

–

The 2020 Lerner MBA Students Association Conference will bring together distinguished voices to discuss the intersection of business and technology on Friday, Feb. 28.